F-folio 2023 – Annual Graduation Fashion Show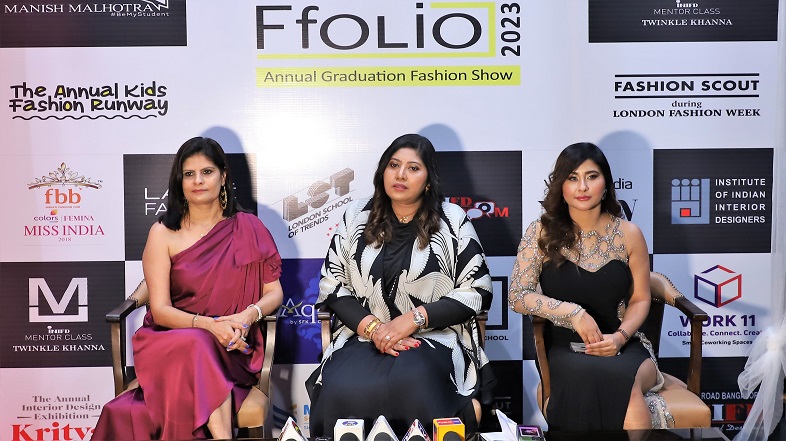 Bengaluru 25th March 2023: Ffolio 2023 – Annual Graduation Fashion Show is a platform, INIFD M.G Road, Bangalore provides all its Graduating students to showcase their futuristic and progressive line of clothing. The Graduation show was a grand success as the students showcased an eclectic line of garments ranging from Flowy silhouettes to leather ensembles. The students have created flamboyant expressions of fashion inspired by geometric patterns, mystique and bold colors. The show had an audience from the Fashion Industry, parents, teachers, famous personalities and many more. The audience were awe-struck when the New York Fashion week garment was showcased on the ramp.
INIFD M.G Road, Bangalore headed by Mrs. S Fareeda Khan aspires to take Design Education to the next level by imparting exceptional knowledge which will prepare the students for a successful career in Fashion and Interior design. Students are given practical exposure through design-based assignments and hands-on training which will enhance their creativity and bring out their maximum potential.
The F'folio -2023 is not just a showcase of the latest fashion trends but also a celebration of creativity, diversity, and inclusivity in the fashion industry. The event will bring together designers, models, and fashion enthusiasts from different backgrounds to celebrate the art of fashion. In F-folio students every year come up with new clothing lines and collections with different themes, however, this season is special as the newly launched Clothing line with 6 women's sequences & 1 Men's sequence & 1 Avant-garde Collection will be presented.
INIFD (Inter National Institute of Fashion Design) is associated with Medhavi Skill University and LST-London School of Trends to give students an international edge. Students are given the opportunity to enhance their skills by taking up Residential Programs in various INIFD centers across the world like London, New York, Dubai, and Singapore. INIFD is the Official Knowledge Partner of Lakmé Fashion Week and Femina Miss India. INIFD Students get the opportunity to participate as Student Designers in London Fashion Week and New York Fashion Week making it the First Student Organization from India.
Our Mentors – Manish Malhotra (Fashion Design) and Twinkle Khanna (Interior Design)
We provide University/International/National Certification in Fashion Design and Interior design courses approved By UGC and NSDC to the following programs B.Voc / M.Voc / B.Des / M.Des /Diploma in Fashion / Interior Design
Guest of Honor
Ms.Fareeda Khan (Director INIFD M.G Road Bangalore & Chennai)
Mrs Shabeena Sultana – Honorary Consul General of the Republic of Tunisia in Bangalore,
Miss Limor Bletter – Deputy Counsel General of Israel to south India
Miss PUJA Kamak – Image Consultant, Stylists, Model