Get ready for a laughter riot as Samay Raina performs LIVE at R CITY on 18th March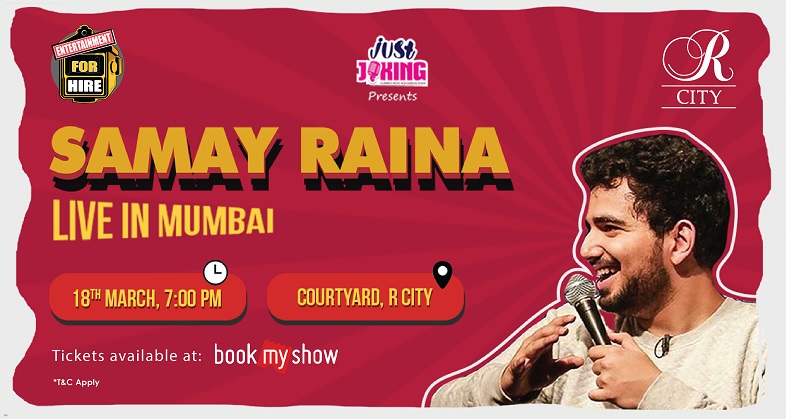 R CITY, Mumbai's biggest retail and entertainment destination is happy to present its upcoming comedy show 'Just Joking with Samay Raina'. The mall has been offering various unique experiences to its patrons and stand-up comic shows are one of them which has been well received. This weekend, the famous stand-up comedian and YouTuber, Samay Raina will be coming over to fill your evening with hilarity and rollicking laughter on the 18th of March, 2023 from 7 pm onwards at the Courtyard of the mall.
The winner of the second season of 'Comicstaan', Samay Raina will definitely leave you in splits with his unique style of humor. He is known for lightening the mood of his audience and creating an atmosphere of fun and amusement. The YouTuber is also a chess enthusiast and is widely known for following his passion for the board game. For all those who want to laugh out loud and end up with an aching jawbone, don't forget to catch Samay Raina live!
R CITY is definitely known for its outstanding delivery of entertainment in the forms of musical nights, stand-up comedy shows, flea markets, pop-up bazaars, and much more. Keeping its audience as its center of focus, the mall is already gearing up with an exciting line-up of events in the upcoming months.
So hurry up, and grab your tickets exclusively on Bookmyshow and head to R CITY this weekend to be a part of an evening full of fun, humor, and good vibes.
Artist : Samay Raina
Date: 18th March, 2023 (Saturday)
Venue: Courtyard, R CITY, Ghatkopar (W)