NDRF to use Garuda Aerospace's Droni Drone launched by Mahendra Singh Dhoni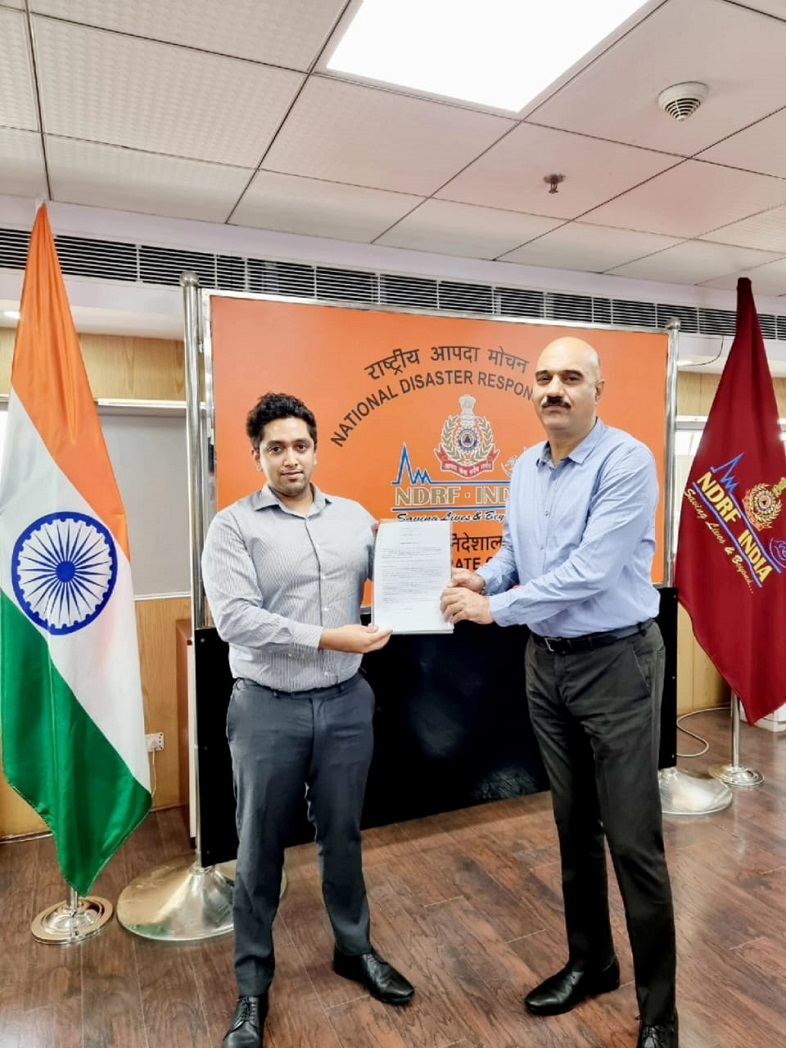 15 October 2022, India Garuda Aerospace Pvt Ltd, one of India's leading drone start-ups, signed an MOU with National Disaster Response Force (NDRF) to impart comprehensive disaster management training. Garuda Aerospace is the first ever start-up to be enlisted as a Drone-as-a-service (DaaS) partner for a year by the NDRF. Quadcopter consumer camera drone 'Droni' launched by MS Dhoni will be deployed to support the NDRF Officials. Garuda Aerospace will also continue to deploy different types of drones like video surveillance drones, emergency supply drones, delivery drones, stringing drones to transport electric cables, and tunnel inspection drones to support NDRF officials across the country as it has done in the past. With this new partnership, Droni drones will be used for surveillance, monitoring movements, and supporting the state disaster management department by creating high-impact solutions.
Speaking on the partnership, Agnishwar Jayaprakash, Founder and CEO, of Garuda Aerospace said, "Garuda Aerospace has created a massive impact by deploying drones for various purposes and its unique technology has supported the NDRF officials with disaster management operations. As a citizen of India, I'm extremely proud and delighted to support the NDRF officials by deploying drone drones for emergencies as these will provide better support. This partnership will help the company meet strategic requirements and serve the nation and help achieve milestones. I also thank the Indian Drone Association and Agni Mission for supporting and identifying the needs while working towards a bright future."

Bharat Bhushan Vaid, Directorate in general, NDRF said, "We are extremely grateful to Garuda Aerospace for helping us with our operations. I personally feel and believe that drones are great support for us now and in the future and with the help of drone drones we can conduct operations in a more structured manner which is the first of its kind in the country. This long-standing partnership will also drive the creation of new opportunities."

Anagh Singh, Agni Mission, Invest India, said, "Garuda Aerospace is the first ever drone company to win an award for bravery and now aims at serving the nation in disaster management. In the past, Garuda Aerospace has successfully implemented the use of Made in India drones to support flood victims in Assam, Gujarat, and Andhra Pradesh, and helped deliver medicine and food. The drones have also been deployed for rescue and relief operations at the Chamoli glacier burst site in Uttarakhand and played a huge role by supporting the departments for locust control operations held in Rajasthan and Uttar Pradesh. ISRO and Garuda Aerospace's White Knight drones were used to deliver medicines, vaccinations, and spray disinfectants in a few hospitals in Bengaluru during the pandemic. Garuda Drones have also helped a mountaineer rappel down a hill and rescued a trekker and helped navigate steep slopes. With the Droni drone now introduced, Garuda Aerospace will successfully aid in safety surveillance and management. We look forward to supporting the organization in its endeavor to avert disaster management."
The company has commenced its $30 million Series A round at a $250 million valuation. Former Indian cricket team captain Mahendra Singh Dhoni has invested in the company and has become the Brand Ambassador.