Monsoon Beauty Essentials With Etude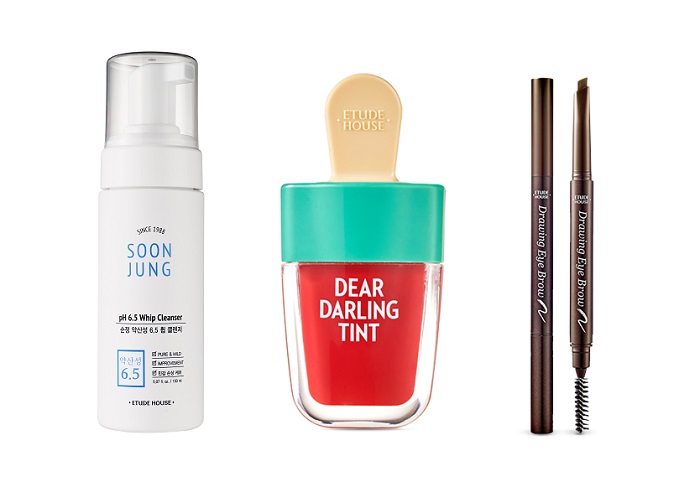 August 2022 : Changing weather conditions, and especially the Indian monsoon brings with it excessive humidity, that leads to skin that's too sticky or makeup that is too patchy. It is time to take the lightweight route with makeup & skincare products best suited for the monsoons. Etude is delighted to share its bestselling beauty essentials for the monsoon season.
· ETUDE Drawing Eyebrow (Shade: 01 Dark Brown) 
Draw neat and clear brows, strand by strand and fill in between brow hair using ETUDE HOUSE Drawing Eyebrow. This brow pencil features a long wearing. richly pigmented and smooth gliding formula that makes application effortless. The custom spoolie on the other hand is created with a precise width to seamless blend the colour.
· ETUDE Dear Darling Water Gel Tint (Shade RD307) 
The Dear Darling Water Gel Tint is a vivid and long-lasting lip tint that lasts all day long. The tint seamlessly glides onto the lips and gives you a natural flush of colour. It is made with pomegranate and soapberry extracts that are rich in minerals and vitamins which deliver off fruity and moisturised finish to the lips. The tint can be applied to both cheeks and lips for an overall fresh look.
It comes in 5 variants of red, pink and orange, designed to hydrate lips and give a natural luscious makeup look.
· ETUDE Soonjung PH 6.5 Whip Cleanser 
The Etude SoonJung pH 6.5 Whip Cleanser is a whipped cream-textured facial cleanser with weakly acidic bubbles for moisturizing facial cleansing. This face wash is formulated at an ideal pH level that is similar to the pH of healthy skin. It is enriched with panthenol and madecassoside that helps calm irritated skin.
It is suitable for irritated and sensitive skin, can be used by all skin types
· ETUDE Moistfull Collagen Emulsion 
The Etude Moistfull Collagen Emulsion is a long lasting moistful collagen cream enriched with super collagen water for a plump jelly skin texture. The small particles of the super collagen water and baobab water in the Moistfull Collagen Emulsion, endlessly provide moisture and leave your skin feeling bouncy like jelly. Moistfull Collagen Emulsion has a light but firm texture that adheres all the moisture and nutrients onto the skin.