Max Life launches Smart Wealth Advantage Growth Par Plan
Bangalore, June 8, 2023: Max Life Insurance Company Ltd. ("Max Life" / "Company"), has launched Smart Wealth Advantage Growth Par Plan (UIN – 104N135V01) – A Non-Linked Participating Individual Life Insurance Savings Plan. The plan combines the power of 'Protection, Liquidity, and Flexibility' into a simple solution and offers comprehensive financial protection for the family for key milestones in life, including retirement.
With its six big benefits, the Smart Wealth Advantage Growth Par Plan enables customers to fulfill their retirement goals while assuring comprehensive protection for themselves and their loved ones:
Liquidity: Insta Income with enhanced early-liquidity benefits, enabling access to funds from the first policy year
Guaranteed component: Guaranteed Income** based benefits to ensure predictability of returns for the customer
Cash Bonus***: A percentage of annualized premium shall be payable to the policyholder as a Cash Bonus (if declared)
Retirement income: Assists in planning for retirement by offering an enhanced income with minimum guarantee during life's golden years (after the life insured attains the age of 65 years)
Flexibility: Offers flexibility to opt from 4 income designs with the option to receive income on special days e.g. birthdays, anniversaries, etc., or to accumulate for future needs and withdraw basis requirement
Enhanced protection benefits: Offered through Policy continuance benefit, inbuilt additional accidental benefit, and optional riders
Prashant Tripathy, Managing Director & CEO, of Max Life said, "Customer obsession is in Max Life's DNA, and developing flexible products that respond to evolving consumer needs is our core competency. We recognized the emerging need for a well-designed income plan emphasizing the value of a regular additional income for long-term financial stability. With Smart Wealth Advantage Growth Par Plan, our primary objective is to offer a comprehensive savings plan, which provides lasting income assurance during the years when one needs it the most."
Promoting financial inclusivity, the Smart Wealth Advantage Growth Par Plan extends special discounts to transgender customers+ and additional benefits on maturity for women++. With these measures, Max Life reaffirms its dedication to fostering a more inclusive and equitable society through innovative insurance offerings.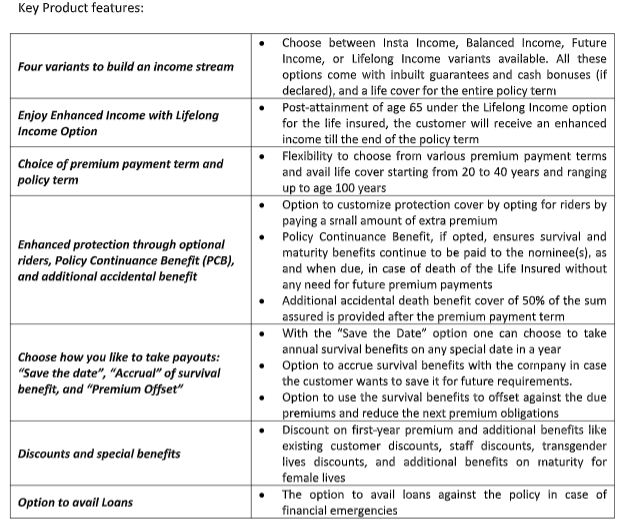 Recently, Max Life announced its highest-ever participating (PAR) bonus of Rs. 1,604 Cr. for its eligible policyholders in FY22-23. This is the Company's 21st consecutive annual bonus; ~8% higher than the bonus declared in the last fiscal. The declared annual bonus will be added to the benefits of approximately 21,00,000 (21 lakhs) eligible participating policyholders, aiding their long-term financial goals.