PLAY launched a stunningly "designed and made-in India" unisex smartwatch, PLAYFIT SLIM2C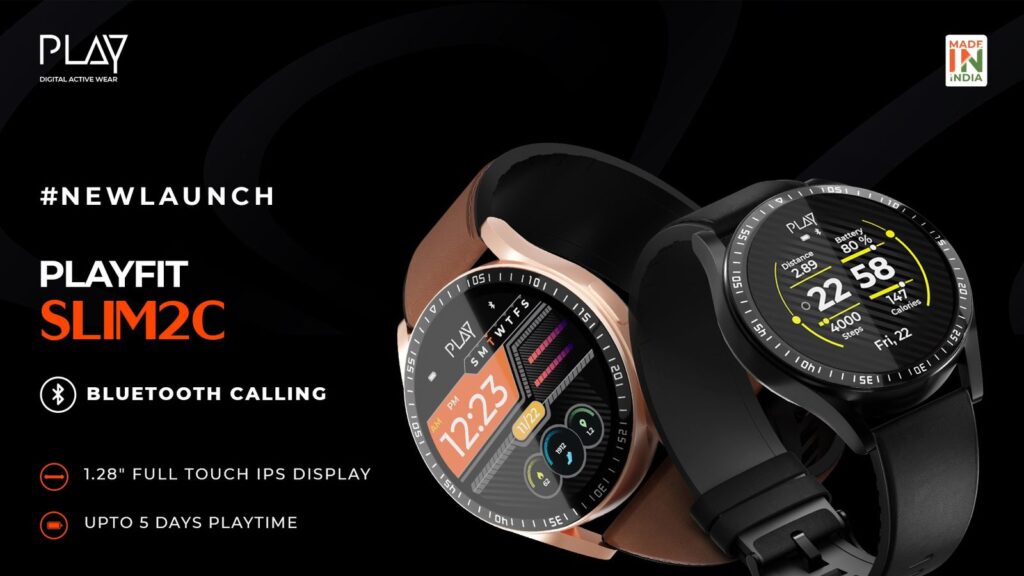 Mumbai, November 30, 2022: Catering to the high buzz festive fervor amongst Indian consumers, PLAY has launched a stunningly "designed and made-in-India" unisex smartwatch, PLAY FIT SLIM2C. The latest smartwatch takes inspiration from fashion-designer watches and is extremely beautiful and fashionable yet has all the features of a smartwatch giving it the best of both worlds. In a bid to strengthen the design-in-India movement and provide Indian consumers with superior technological products at affordable prices, PLAY, India's leading manufacturer of premium-styled, affordable, yet durable AioT products, has launched its latest smart wear product, PLAY FIT SLIM2C. True to its name, this next-generation wearable technology is a SLIM technology marvel crafted in wristwear for Indian consumers reflecting their growing adulation for a smartwatch over the traditional designer watch.
PLAYFIT SLIM2C will be available at an affordable price of just INR 3999. It is designed, developed, and manufactured in India, keeping a conscious design language suited to the Indian consumer's requirements, aspirations, and feedback. The smartwatch will be available on PLAY's official website and all major e-commerce platforms like Amazon and Flipkart along with the 50,000 offline retail stores across the country. Since its inception, the brand has expanded its geographical reach to ensure that consumers can experience and buy their latest product innovations from a local vicinity.
Spokesperson—PLAY, Mr. Hamish Patel, said, "It's always exciting to design premium-styled, yet affordable products for Indian consumers who are well aware about the global technology evolution, completely mindful of their individual lifestyle and hence are clear about their product and experience requirements. We are extremely motivated and happy to announce the arrival of PLAY FIT SLIM2C for our consumers, which sets yet another benchmark in smart wristwear technology. At PLAY, we are always on the quest to provide fashionable yet technologically superior product innovations to our customers which cater to their personalized requirements and expectations. PLAYFIT SLIM2C is worthy proof of a harmonious blend of advanced technology with an equally fashionable design. It competes for its place with its international peers in the industry, has best-in-class design and features, yet is launched at a very India-centric customer price. We look forward to our customer's feedback for the product and hope that PLAY FIT SLIM2C will receive positive consumer adulation like its many predecessors."